04 Sep

Into (and out of) the Great Bear Rainforest: Part 1

Posted at 22:31h

in

Photo Tours

Notice

: Trying to access array offset on value of type bool in

/var/www/wp-content/plugins/bridge-core/modules/shortcodes/shortcode-elements/_social-share/templates/social-share.php

on line

124

I just completed my first of two "Into the Great Bear Rainforest" trips.  On this one we started in Bella Bella, British Columbia, and traveled north and ended in Kitimat, stopping at various inlets, and estuaries along the way.

One of my favourite things about the Great Bear Rainforest photo tours is that there is a long list of potential wildlife that we could see along the route, but we never know what we will see, and where we will see it.  It's a true wilderness photo tour.  The other nice thing is, what we enjoy, we enjoy to ourselves, instead of being among a bunch of other photo groups.

We started our trip with several Humpback Whales, including one that was lunge feeding and coming quite high out of the water, which was pretty incredible.  However it was a bit hard to predict where he was coming up, and therefore also hard to predict where to point your camera and shoot.

Throughout the trip we were treated to rivers and streams full of salmon, which had already brought in the Bald Eagles that were lining the trees.  We had the opportunity to photograph them in the pouring rain, sunny days, and even in some fog/mist.  It really provided us the full gamut of Bald Eagles in the Great Bear Rainforest.

We also had the opportunity to photograph both Grizzly Bears and Black Bears, including one of each with cubs, so adding a little extra cute factor to the photography.   For the most part the bears were taking advantage of the salmon runs, and trying to start packing on the weight before hibernation.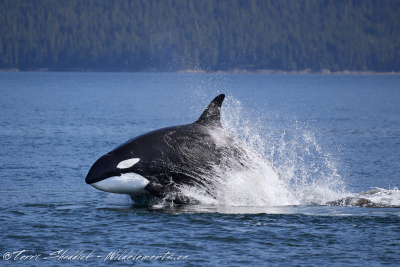 We ended the trip with quite a show from some Transient Killer Whales, who had already started attacking a Stellar Sea Lion when we showed up.  We spent almost two hours watching as they came out of the water and jumped on him, or hit him with their tails, and doing everything they could to get their next meal.  It was the first time that I had witnessed something like this, and while it was incredible to see the Orcas, you were left feeling a little sad for the poor Sea Lion.
So if you are interested in a trip along the coast, where you could be treated to both land mammals, and marine mammals, the  Great Bear Rainforest might be a trip for you.  We have several different options, including ones in the spring, summer and fall, with more information available on my Photo Tours page.
Stay tuned for Part Two of my blog post after I finish my next trip into the Great Bear Rainforest.