27 Feb

Canon 1DX Mark III – Initial Impressions

Posted at 13:17h

in

1DX Mark III

,

Cameras & Gear

Notice

: Trying to access array offset on value of type bool in

/var/www/wp-content/plugins/bridge-core/modules/shortcodes/shortcode-elements/_social-share/templates/social-share.php

on line

124

NEW CAMERA ALERT – CANON 1DX Mark III !!!

I picked up my new Canon 1DX Mark III a couple weeks ago, and actually have not had too much time to get out shooting with it just yet. But the small amount of time I have spent with it, I do have a few first impressions of it that I thought I would share until I have more time to spend with it.  The following are a few of those first impressions, and what I still plan to come when it comes to testing and shooting the 1DX Mark III.

AF Points

The marketing materials had me really excited, it stated that the 1DX Mark III was coming equipped with 191 AF Points (155 cross-type points) with all of them being f/8. My thoughts were "Finally, more coverage of the frame", making it a little easier to frame shots when you want the subject further down in either the left, or right, corner, when trying to capture an animal with a landscape behind it.  Well I got excited for nothing, while there are more than 130 more AF points, they are covering not much more of the frame (maybe no more of the frame).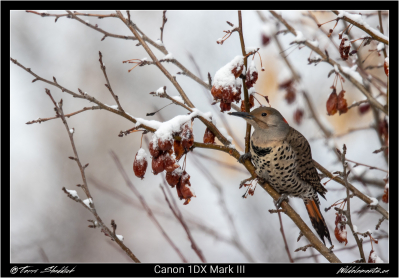 What that means is that there are a ton of really tiny AF points that can help increase the precision of your autofocus, assuming it falls within the array of points available (and not out in no mans land where there are no AF Points).  With the AF points being so small, it makes me wonder if there is really any use not for the Spot AF point, because it is just such a tiny little focusing point.  I guess I will get an answer to this once I get more time with the camera, and test the Autofocus a little more carefully.
There has also been a revision to the "Cases" where you can set the parameters for the responsiveness of the autofocus.  The changes that I have noted (but not had a chance to test yet) are that there are now only 4 cases (as opposed to 6).  Canon has added an auto case which is supposed to adapt to how the subject moves.  And finally they have removed the parameter for AF Point Auto Switch, which I am not that bothered by, because I didn't find that it was overly useful anyway.
Auto ISO
There were no notable changes with the Auto ISO, more specifically, Canon is still only offering full stops for shutter speeds when setting the Auto ISO, which definitely does bum me out a little bit, because having 1/3 stops would be way more useable.
New Button
The new AF On button with smart controller allows you to scroll the autofocus point without the need to press another button first.  It's a pretty slick button, however I do find that it is pretty sensitive, so I think it will take some getting used to in order to work with it quickly.  I also wonder how it will respond when shooting in the rain, and if my fingers are wet.  With the amount of time that I spend on the coast of British Columbia, I am guessing I will get to put it to the test.
Other Notes
I have noticed in the little bit of time that I have spent with the camera, it seems to be a bit quieter especially when shooting large bursts, it sounds like the mirror is less "slappy".  Coupled with this is that the mirror blackout does not seem to be as long as it is with the predecessor the 1DX Mark II.
What's Next?
Next on the agenda for me is to spend some more time actually shooting the camera.  In addition, I hope to spend more time testing the ISO performance, and comparing it to the 1DX Mark II, and also testing the Autofocus and how it compares to the 1DX Mark II.
If you have any questions about my thoughts on the 1DX Mark III, feel free to contact me at [email protected].